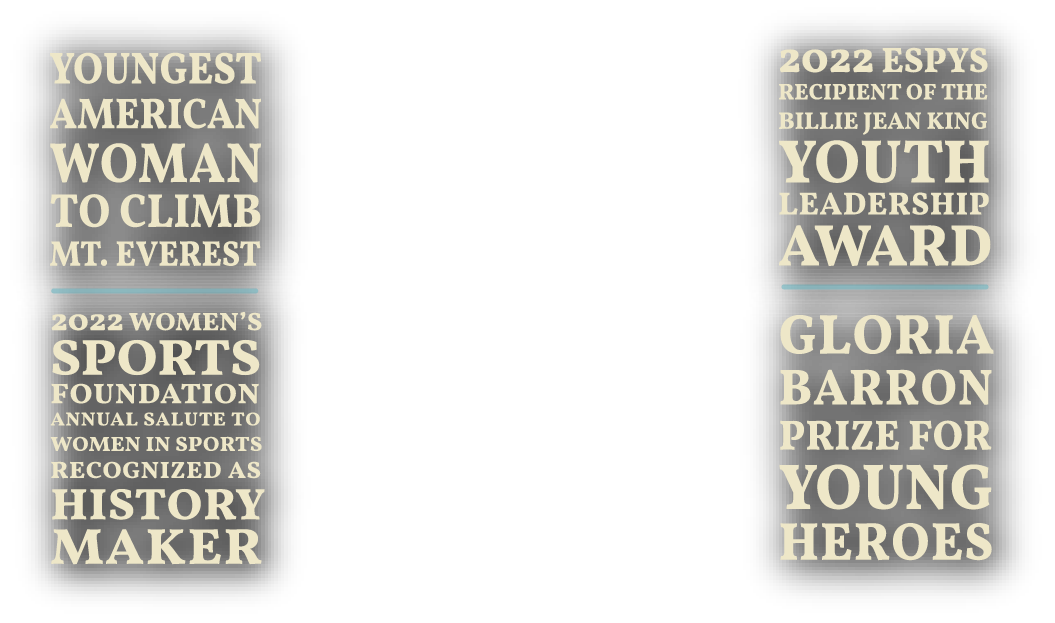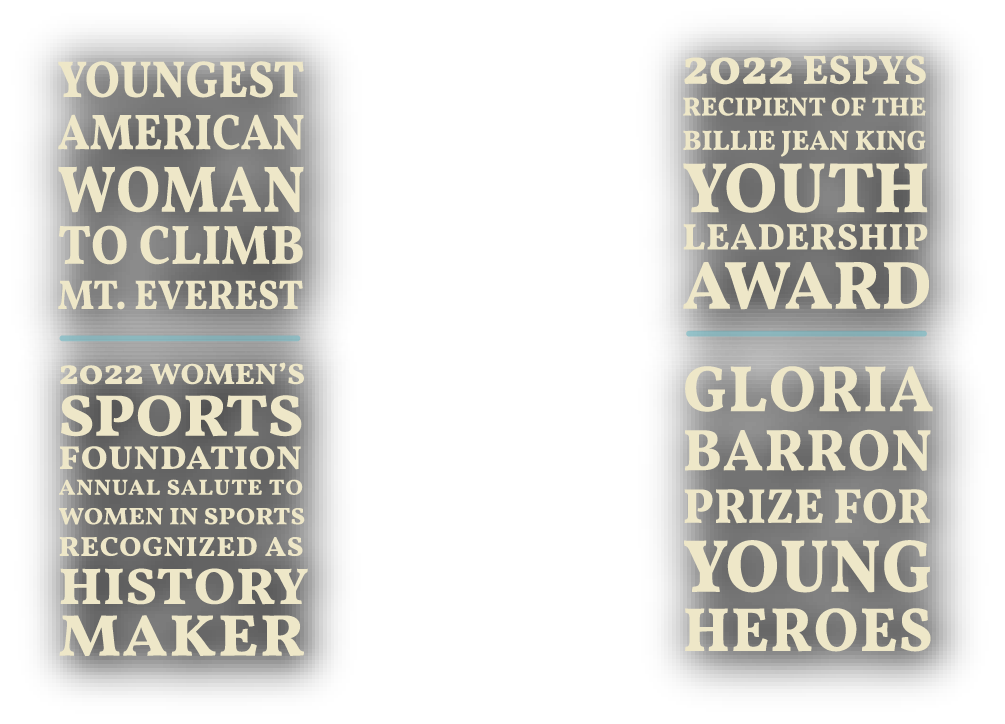 Lucy Westlake
American Mountaineer
Lucy Westlake
Lucy Westlake is a world-class athlete and American mountaineer. She holds an American Record as the youngest woman to summit Mount Everest and a World Record as the youngest female to summit the highest mountain in each of the 50 U.S. states. Lucy runs cross country and track for the University of Southern California and she is a 2x USA Triathlon Junior All-American. Lucy has a deep love for the outdoors and pushing her physical and mental limits to new heights. She lives by the mantra, Limits are Perceived, and continually challenges herself in her athletic pursuits.
Lucy began climbing mountains at the age of seven. While living in Mexico, she climbed La Malinche (14,636′) with her family and told her dad on the top, "I want to do this again". And so she did. The following summer Lucy and her father discovered "highpointing" – climbing the highest mountain in each of the U.S. states. They began their 10-year adventure together climbing mountains whenever they could find time in a busy young girl's life. At the age of 12, Lucy set her first mountaineering world record as the youngest female to summit the highest mountain in each of the lower 48 states. At 13, she attempted Denali, her 50th and final high point.
"I had always known failure to be a possibility, yet it had never been my reality. I had reached the summit of the 49 other state high points on my first attempt. I had done everything in my power to succeed on Denali, yet I failed. It was heartbreaking. A crisis of purpose unfolded within me for the next four years of my life. Why endure such pain without guaranteed success? I wrestled with this question while cursing the uncontrollable circumstances of Denali. And slowly, I became a mountaineer. My longing for the mountains returned, but the yearning was no longer for the summit – it was for the fight, the beauty, and the journey within."
At the age of 17, Lucy summited Denali and set the world record as the youngest female to summit all 50 U.S. state high points. She has now climbed 5 of the 7 continent's highest peaks and her goal is to become the youngest American woman to complete the Explorers Grand Slam – a mountaineering feat accomplished by only 75 people worldwide.
"For me, it's no longer about breaking records. It's about pushing limits. Not only my limits, but the perceived limits of girls and young women in the mountains. We can do so much more than we think we can. My goal in setting the Explorers Grand Slam record is to inspire a generation of girls to dream big and pursue adventures in the outdoors. I'm setting this record for the next girl to break it."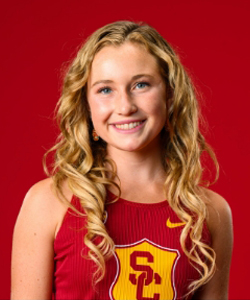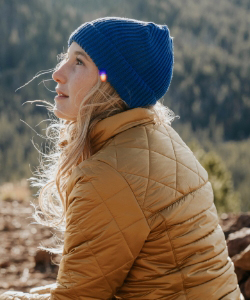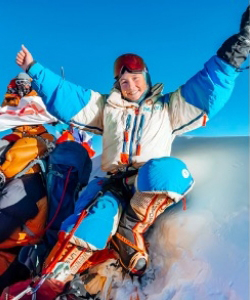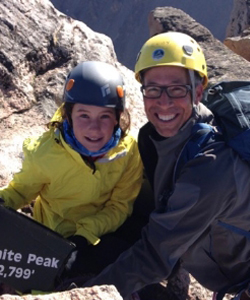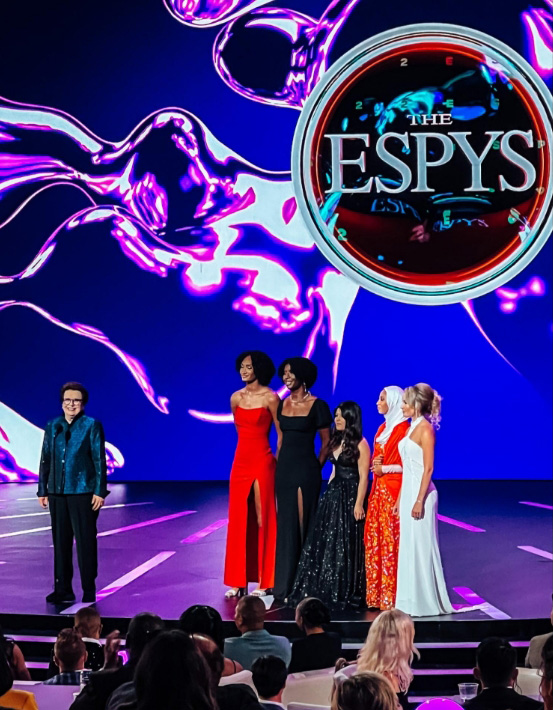 Awards & Recognition
Lucy is dedicated to her mission of closing the gender gap in the sport of mountaineering while raising money and awareness for our world's water crisis. Thank you to the organizations who have recognized and honored her efforts.
2022 ESPYS Sports Humanitarian Award – Billie Jean King Youth Leadership Recipient
2022 Women's Sports Foundation Annual Salute to Women in Sports – Recognized as History Maker
Grape-Nuts 125th Anniversary Explorers Award
Gloria Barron Prize for Young Heroes Award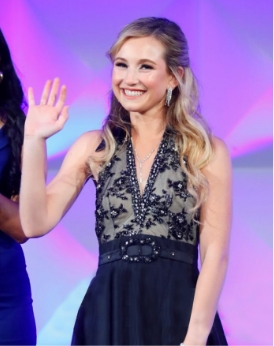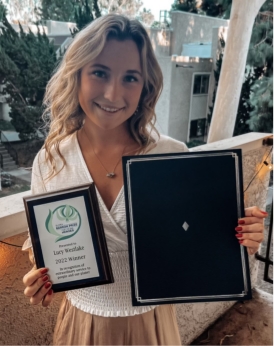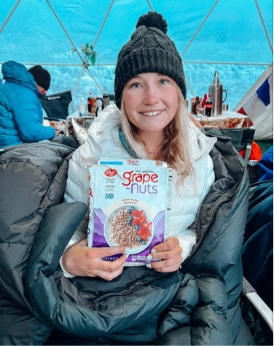 Sponsors / Supporters
I love working with these companies. Thank you for your support.